We are pleased to announce that Rupiah Token (IDRT) is now available on NUSA. NUSA is "One-Stop Defi Solution", a platform that provides comprehensive DeFi services and an accessible Web3 experience for everyone. Through this partnership, we aim to contribute to creating a robust crypto ecosystem that can be easily accessed globally while also accelerating the DeFi market penetration in Indonesia.
How to Lend & Borrow IDRT on Nusa Lending Market?
Open https://nusa.finance/, then select "Go To Apps"
Connect your crypto wallet
Choose the "Lend feature" to provide IDRT at the Nusa Lending Market, lend your IDRT to others. and earn interest as the rewards.
Choose the "Borrow feature" to borrow various available tokens on the NUSA by using IDRT as the collateral.

Each token has its own collateral factor which ranges from 25% – 80% at the Nusa Lending Market.
To get back your collateral, you need to pay back your loan + the interest rate
As an example,

You want to borrow BNB by using IDRT as collateral. If the IDRT collateral factor is 75% (only example), you can get a maximum of $750 BNB loan with $1.000 IDRT as the collateral.
If you borrow $750 BNB to be used for some purposes. Then, you need to pay back the $750 BNB + the interest rate (in BNB) to get back your $1.000 IDRT collateral.
About NUSA
Previously named as Tadpole Finance, NUSA is a joint project initiated by Indodax and Tokenomy on October 2022.
Carrying a vision to enable an accessible Web3 experience for everyone, these are some of main features of NUSA.
Lending Market
Enable users to deposit cryptocurrencies and earn interest or borrow other crypto assets against them.
Swap
Swap your tokens within the BEP-20 network a few clicks away. Hassle-free, secure, and low-cost swap platform.
Liquidity Provider
By adding liquidity to pairing tokens, you will get an LP token that can be utilized to get a percentage of the swap fee from the respective liquidity pool.
Farm Pools
More ways to circulate your earnings. Rather than holding your LP token, put it in the farm pools for staking and get a NUSA reward.
Airdrop
Join a strong community by supporting a project while getting rewarded.
Aside from those, NUSA also plans 2 other big projects, Governance Token, and NFT Marketplace.
About Rupiah Token
Rupiah Token (IDRT) is a stablecoin that is backed 1:1 by fiat Indonesian Rupiah. IDRT is available on multiple blockchains namely Ethereum (ERC-20), Binance Chain (BEP-2), BNB Smart Chain (BEP-20), and Luniverse chain. We are the first and most adopted Rupiah stablecoin in Indonesia. The way Rupiah Token works, in a nutshell, is that our user can simply deposit 1 Rupiah Token for 1 fiat Rupiah and withdraw the Rupiah Token back to the fiat Indonesian Rupiah at any time via the mobile wallet app (https://pintu.co.id). We can always guarantee that the Rupiah Token is backed by fiat Indonesian Rupiah in our bank account and we are regularly audited by an independent auditor to prove such collateralization.
How to Get and Send Out IDRT Token
Follow these steps below to get IDRT Token via Pintu app.
On your Pintu app homepage, tap "Deposit" button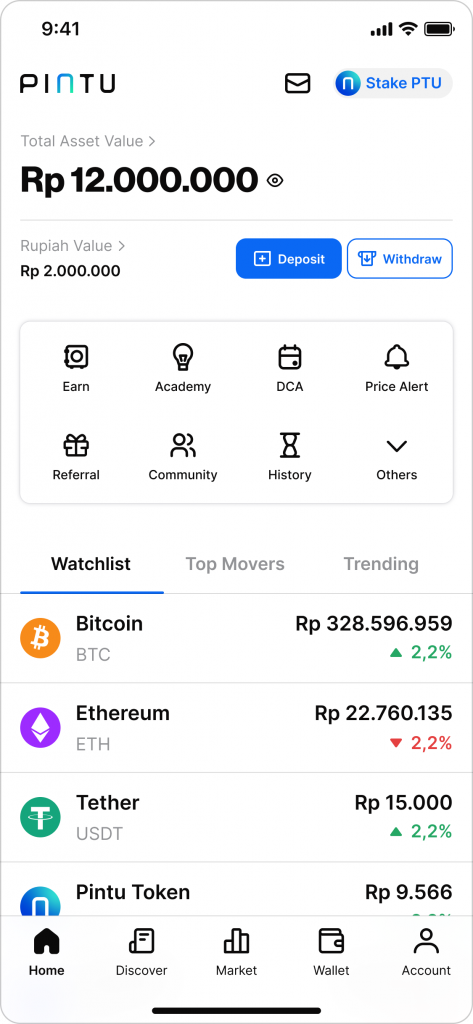 Choose the deposit method that you want to use.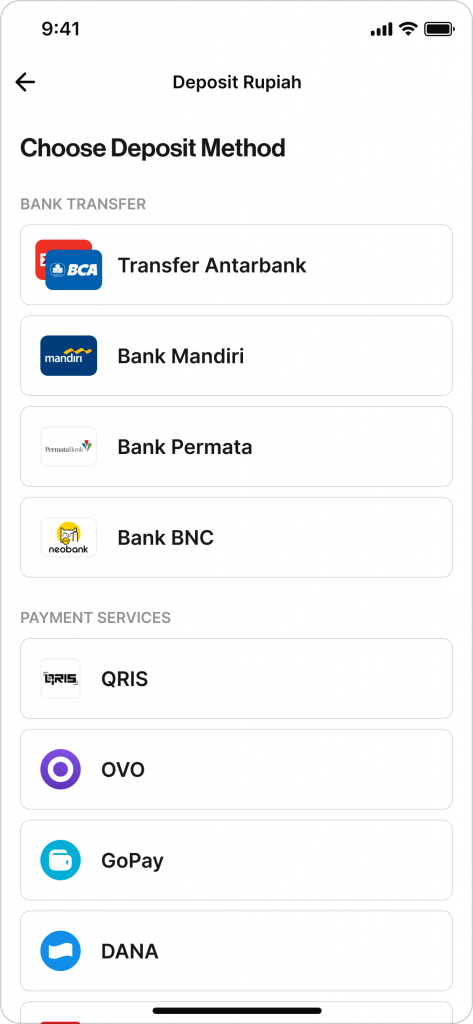 Input the deposit amount, and follow the next step till the end.
Tap "Deposit Now" button.
Then, you can also send out the IDRT token by following these steps.
Tap Rupiah (IDRT) wallet.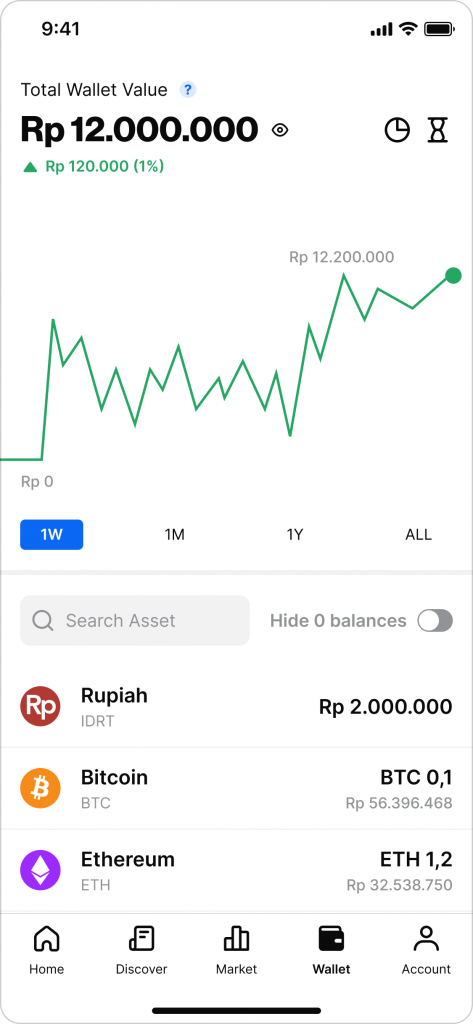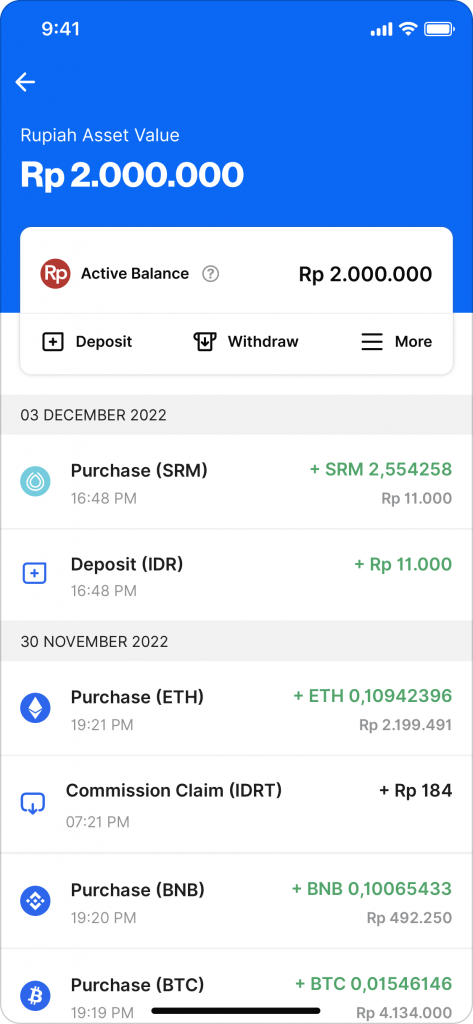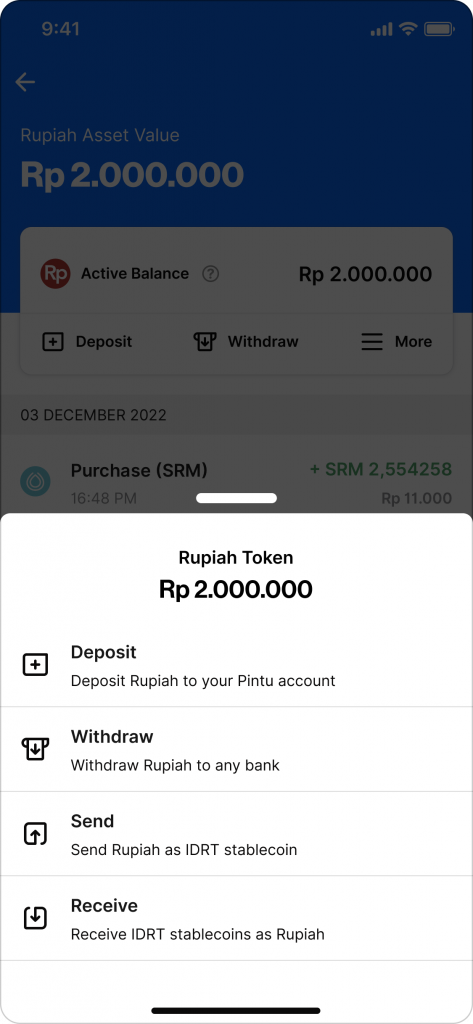 Input the wallet address and IDRT amount that you want to send out, and follow the next step till the end.