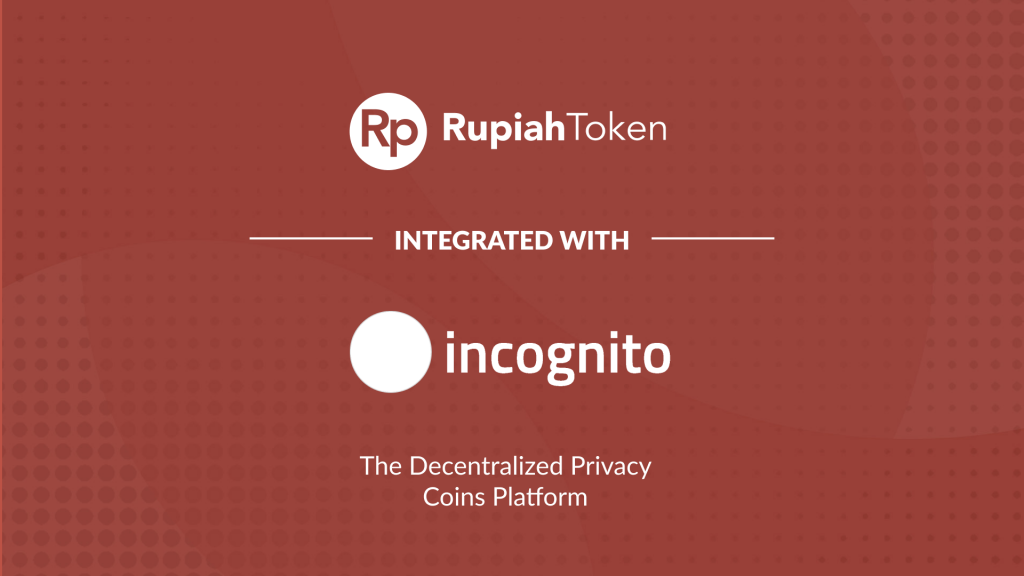 Rupiah Token is thrilled to announce a strategic partnership with Incognito. As a result, the IDRT token will be available on Incognito platform in form of pIDRT (Privacy IDRT). You can make private transactions using pIDRT anywhere within the Incognito blockchain without revealing your identity. Just like an incognito browser…it's just that this is special for cryptocurrency. How cool is that?
What is Incognito?
Incognito is a Platform of Decentralized Privacy Coins. Existing solutions like Monero, Zcash, and Grin introduced their own version of cryptocurrencies that focus on privacy, based on CryptoNote , Zerocash, and Mimblewimble respectively.
Incognito takes a different approach, based on the premise that people don't want a new cryptocurrency with privacy. What they really want is privacy for their existing cryptocurrencies: incognito mode for any cryptocurrency.
Incognito is designed so users don't have to choose between their favorite cryptocurrencies and privacy coins. They can have both! They can hold any cryptocurrency and still be able to use it confidentially whenever they want. Privacy needs to be ubiquitous, inclusive, and accessible.
Use Case
Privacy Stablecoins as P2P Digital Cash
From November 2019 to January 2020, the platform has processed more than 150,000 privacy transactions of BTC, ETH, USDT, and other cryptocurrencies. So far, the main use cases are payroll, trading, business payments, and e-commerce.
Anonymous Cross-Chain Decentralized Exchanges
The Incognito pDEX is a new kind of exchange that is not only decentralized but also privacy-protecting. The pDEX can facilitate anonymous cross-chain trading – for example, buying pBTC with pIDRT.
Buy & Sell Crypto Anonymously
By using this platform, you can buy and sell cryptos anonymously in the cryptocurrency market. At the end of the transaction, the seller only needs to make a deposit to the buyer's Incognito wallet address. The seller does not need an Incognito wallet to carry out the transaction, but the buyer will benefit from full privacy.
Pay Anonymously Online
For buyers and sellers, the platform facilitates anonymous payments. Content creators can receive anonymous tips and contributions. Confidential donations are now also possible.
About Rupiah Token
PT Rupiah Token Indonesia is a venture-capital-backed startup based in Jakarta, Indonesia. As a leading Blockchain technology company, our mission is to boost the acceptance of Indonesian Rupiah worldwide and accelerate the transition to a more inclusive and open financial system. Since our establishment in January 2019, we have been hard at work developing our service in Indonesia and listing our tokens on reputable exchanges.
Contacts
To request for partnerships or other collaboration opportunities, please email [email protected] or visit rupiahtoken.com to submit a request.
Telegram (EN): https://t.me/rupiahtokeninternational
Telegram (ID): https://t.me/rupiahtokenindonesia
Twitter: https://twitter.com/RupiahTokenIDRT
Website: https://rupiahtoken.com