Hi Rupiah Token followers!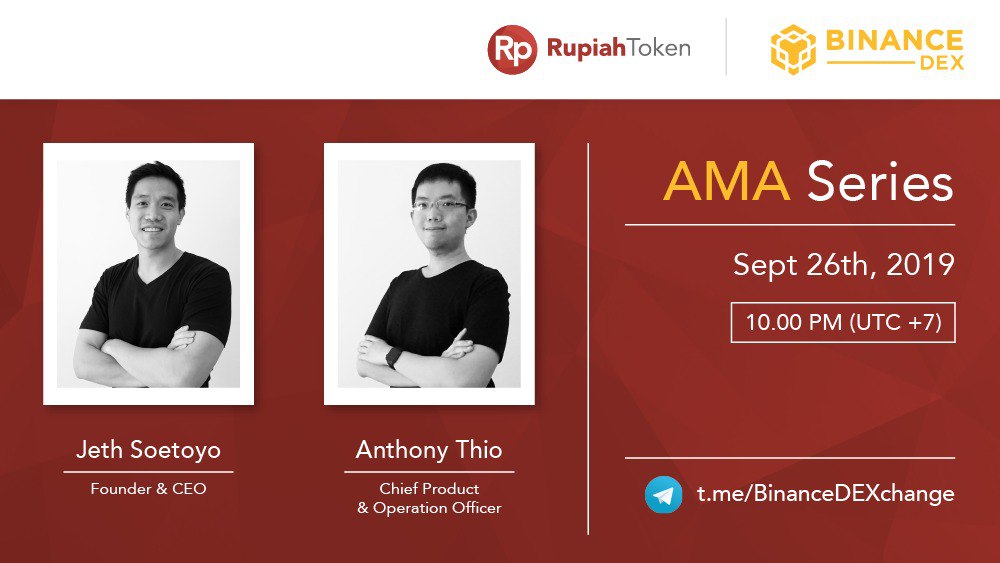 We would love to invite you to join our AMA Session with Jeth Soetoyo and Anthony Thio, co-founders of Rupiah Token!
AMA will be held on:
Date: Thursday, September 26, 2019
Time: 22:00 PM (UTC+7) // 15:00 UTC
Location: https://t.me/BinanceDEXchange
Come and ask us your best questions!
About Rupiah Token
PT Rupiah Token Indonesia is a venture-capital backed startup based in Jakarta, Indonesia. As a leading Blockchain technology company, our mission is to boost the acceptance of Indonesian Rupiah worldwide and accelerate the transition to a more inclusive and open financial system. Since our establishment in January 2019, we have been hard at work developing our service in Indonesia and listing our tokens on reputable exchanges.
Follow our blog to stay up-to-date with our latest announcements!
Contacts:
Website: https://rupiahtoken.com/
Blog : https://rupiahtoken.com/blog
Telegram : https://t.me/rupiahtoken_news
Twitter: https://twitter.com/RupiahTokenIDRT
Customer support: [email protected]
Partnerships & Investors: Jeth Soetoyo, CEO — [email protected]