We are pleased to announce that the Rupiah Token (IDRT) is now integrated with Moonlet Wallet. Blockchain Harmony supports four shards of a thousand nodes, producing blocks in 8 seconds with finality. Rupiah Token and Moonlet are part of ZILHive Accelerator Cohort 2020-2021. Through the ZILHive Accelerator Program, we aim to contribute to creating a robust blockchain and crypto ecosystem to boost adoption through wider use-cases.
As the most adopted fiat-backed stablecoin in Indonesia, IDRT seeks to collaborate with leading crypto exchanges, wallets, and other relevant platforms to ease users in storing, sending, receiving, and spending their IDRT. One of its competitive advantages is that IDRT embraces the strong features of different blockchain networks. As such, IDRT is now available on multiple blockchain networks namely Ethereum Chain (ERC20 Token), Binance Chain (BEP2 Token), and Luniverse chain. Throughout the ZILHive Accelerator program, IDRT also plans to launch Rupiah Token on Zilliqa chain soon.
Rupiah Token (IDRT) is a stablecoin that is backed 1:1 by fiat Indonesian Rupiah. IDRT is available on multiple blockchain namely Ethereum (ERC-20), Binance Chain (BEP-2), and Luniverse chain. We are the first and most-adopted Rupiah stablecoin in Indonesia. The way Rupiah Token works, in a nutshell, is that our user can simply deposit 1 Rupiah Token for 1 fiat Rupiah and withdraw the Rupiah Token back to fiat Indonesian Rupiah at any time via our platform (https://rupiahtoken.com/) or via mobile wallet app (https://Pintu.co.id) We can always guarantee that the Rupiah Token is backed by fiat Indonesian Rupiah in our bank account and we are regularly audited by an independent auditor to prove such collateralization.

Generally, in its business process, Rupiah Token does two major activities which are Tokenization and Redemption. In the Tokenization process, the user can simply deposit the fiat Rupiah to our bank account which is uniquely tailored to the user's account. Once our system has noticed the user's deposit in our bank account, we will automatically send the equivalent amount of IDRT to the user's IDRT wallet address. Similarly, in the Redemption process, the user can simply send his/her IDRT back to our withdrawal wallet address. Once we have received the IDRT in our withdrawal wallet address, the user can request the amount of IDRT that he/she would like to withdraw which then will be processed to his/her bank account.
Please note that every user must have registered and passed the KYC process prior to accessing all these features in order to comply with the regulation.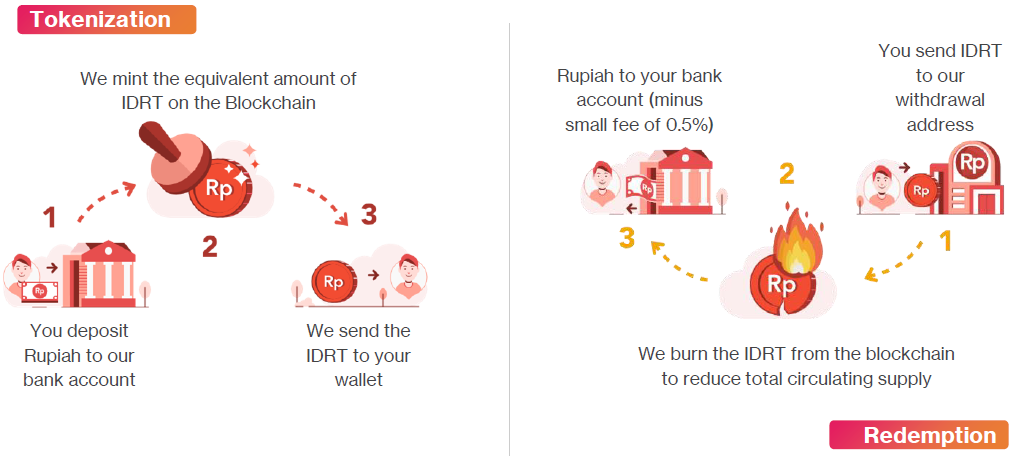 Moonlet is a futuristic wallet that offers easy to use interface, security, and of course support for the main-net Zilliqa tokens. The project boasts an array of initiative technology to help the user and protect them from phishing and hackers. Some of the main features of the Moonlet wallet are: 
Native ZIL & ETH Support
Hierarchical Deterministic
Multiple Accounts
Transaction Status
Open-source Code
Developer Tools
.zil Domain Names
Blockchain Agnostic
Phishing Protection
As a non-custodial wallet Moonlet allows you to be your own bank. But, what is a non-custodial wallet?
A non-custodial wallet is a decentralized-type of blockchain wallet whereby you need to handle your own private keys in order to access your assets in that wallet. One advantage of a non-custodial wallet is that you have the whole control over your assets. However, you need to also be aware that if you lose access to your private keys, there is no way that you could retrieve them. Accordingly, you always need to keep your private keys in a safe and well manner.
But, what are private keys exactly? How could you obtain it and how should you store it? The private key allows a cryptocurrency user to grant access and transaction in a certain wallet address within a non-custodial wallet. Generally, a non-custodial blockchain wallet will generate a set of private keys for you when you first created a wallet. These private keys typically consist of Mnemonic Seed, which is a set of words ranging from 12 to 24 words. These words are actually wrapping around the actual private keys and designed to make them easier for you to remember or store. Any non-custodial wallets will only show you this Mnemonic Seed once and they are not keeping it in their system. As such, once you are shown these keys you need to note them down and store them in a secure manner to avoid losing access to your assets.
What is more interesting about private keys is that you can log in to multiple different non-custodial wallet platforms using the exact same private keys to access your assets, provided that the other non-custodial wallet supports the same blockchain network. So in short, you can import the Mnemonic Seed from one non-custodial wallet to another to retrieve your assets.
So, how do I create my first non-custodial wallet with Moonlet? And what are the benefits of using a Moonlet wallet?
First of all, you need to visit the AppStore or PlayStore on your mobile device and search for Moonlet wallet. Otherwise, you can also click here if you want to download on iOS and here for Android, or kindly check moonlet.io on your browser.
Once you have downloaded the app, you may open the app to start by clicking "Create" to create a new wallet or "Recover" to import your own seed phrase that you have to access your assets in there.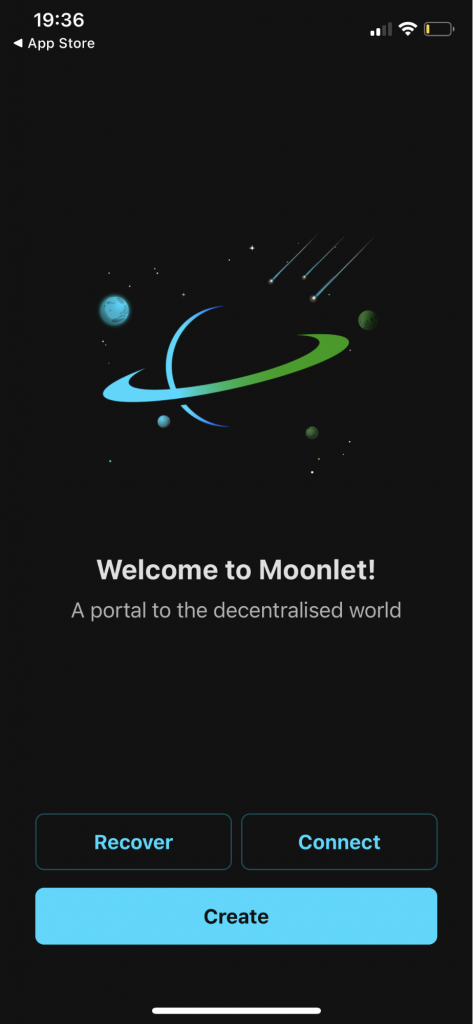 3. If you click "Create", you will be shown a new Mnemonic Seed by the Moonlet wallet which consists of 12 words. You need to note down and store each of the words shown based on the order properly. If you lose access to these Mnemonic Seed, there is no way that we or anyone else could retrieve it.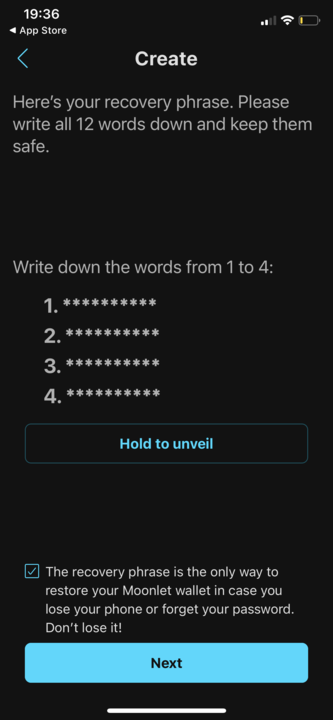 4. Once you have finished the previous step, you will be asked to create a PIN to ease your login process to the Moonlet wallet later.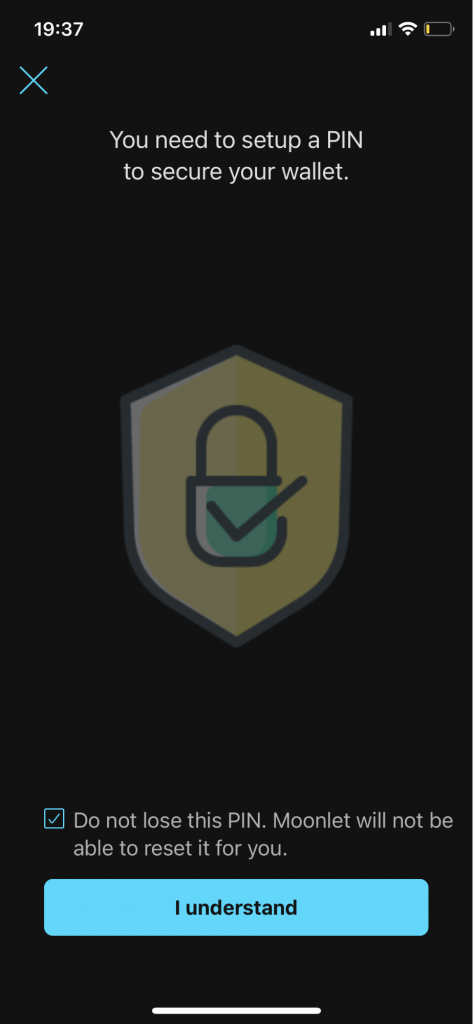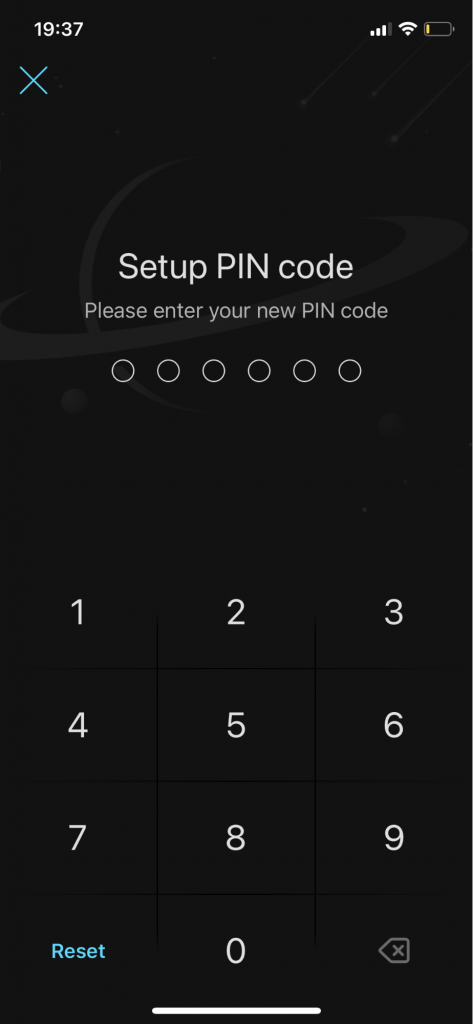 5. Congratulations! Now you have owned a non-custodial wallet in a very simple way with Moonlet wallet. Here you can keep, send, receive, stake, and access other features simply through the Moonlet interface. Currently, Moonlet supports three different blockchain protocols namely Zilliqa (ZRC2), Ethereum (ERC20), and NEAR. You can now manage your IDRT (ERC20) from the Moonlet wallet by navigating to the "Ethereum" section. So make sure you got some ETH, since any ERC-20 token requires ETH to be able to pay for network fees.