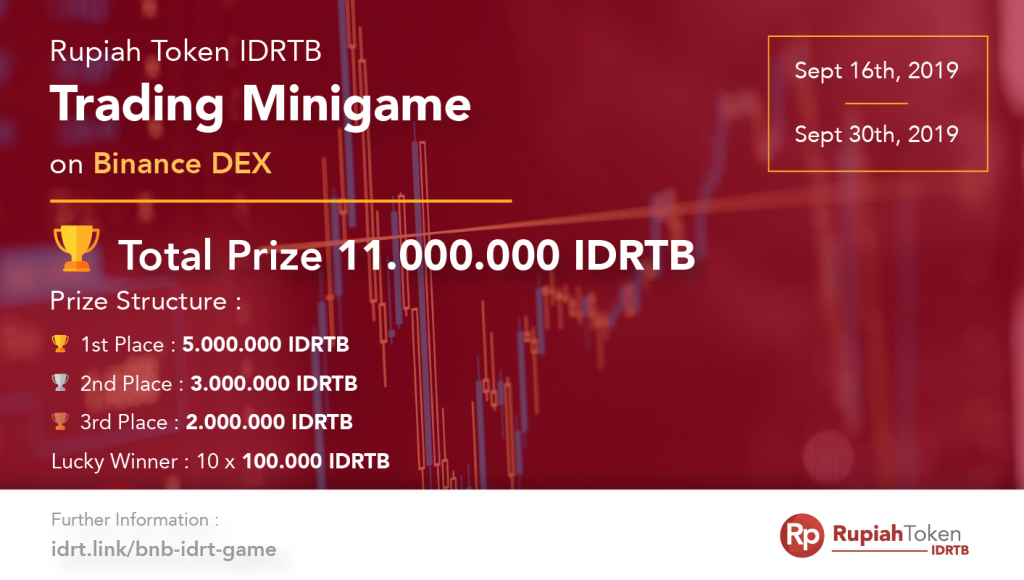 Hello everyone!
As we announced yesterday, IDRTB can now be purchased via https://rupiahtoken.com/ and tradable on Binance DEX (BNB / IDRTB) !
To celebrate this occasion, we would like to invite you to join our IDRTB Trading Minigame! We have prepared a ****total prize of 11,000,000 IDRTB. The competition will start on 16 September 2019 and lasts for 2 weeks – get ready by reading the details below!
Minigame Rules
Trading Minigame event will be held for 2 weeks, from Monday 16 September 2019, 18:00 GMT+7 until Monday 30 September 2019, 18:00 GMT+7.
Eligible winner (address) must have at least 1,000,000 IDRTB average daily trading volume over the whole event period.
Eligible winner (address) must also hold at least 1,000,000 IDRTB at the end of the competition.
Trading volume refers to sum of Buys and Sells of IDRTB, excluding wash trades.
Prize Structure
Three eligible addresses with the highest trading volume will win 1st, 2nd, and 3rd place. In addition, ten eligible addresses chosen at random will obtain 100,000 IDRTB each.
Total Prize: 11,000,000 IDRTB
1st Place — 5,000,000 IDRTB
2nd Place — 3,000,000 IDRTB
3rd Place — 2,000,000 IDRTB
10 x Random Winner — 100,000 IDRTB each
Terms & Conditions
Trading volume of each account on BNB/IDRTB will be recorded at the end of the minigame on Monday 30 September 2019, 18:00 GMT+7.
No registration needed to join. Winners will be based on Binance Chain Address used for trading
Winners' announcement and prize distribution will be done within 3-4 working days from the end date.
Rupiah Token employees or any affiliated parties are not eligible to join the minigame.
Wash trading is prohibited! Any participant doing wash trading will be immediately disqualified.
Rupiah Token reserves the right to cancel or amend the event and the rules at our sole discretion.
---
About Rupiah Token
PT Rupiah Token Indonesia is a venture-capital backed startup based in Jakarta, Indonesia. As a leading Blockchain technology company, our mission is to boost the acceptance of Indonesian Rupiah worldwide and accelerate the transition to a more inclusive and open financial system. Since our establishment in January 2019, we have been hard at work developing our service in Indonesia and listing our tokens on reputable exchanges.
Follow our blog to stay up-to-date with our latest announcements!
Contacts:
Website: https://rupiahtoken.com/
Blog : https://rupiahtoken.com/blog
Telegram : https://t.me/rupiahtoken_news
Twitter: https://twitter.com/RupiahTokenIDRT
Customer support: [email protected]
Partnerships & Investors: Jeth Soetoyo, CEO — [email protected]