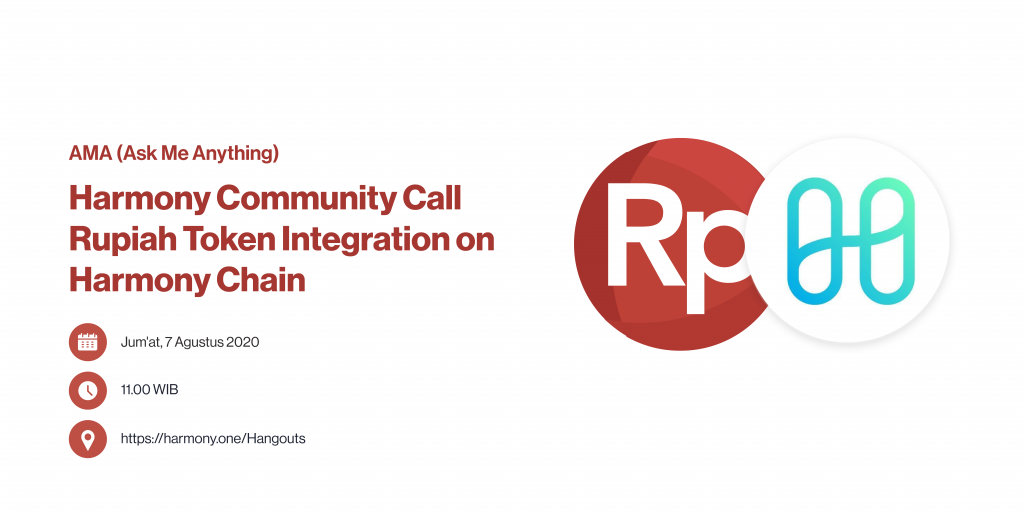 Hi IDRTers!
Rupiah Token and Harmony would like to invite you to Harmony Community Call with the topic "Rupiah Token Integration on Hamony Chain. There will be a $50 reward for winners of our trivia; want to participate come early. Trivia starts exactly 11 am Jakarta Time and will last for no more than the first 5 minutes. Let's join the session!
AMA will be held on:
Date: Friday, August 07, 2020
Time: 11 am Jakarta Time
Location: https://Harmony.one/Hangouts
About Rupiah Token and Harmony Partnership
Harmony is a well-known blockchain network aimed at decentralized applications (DApps) using Effective Proof-of-Stake (EPoS) technology. With this partnership, Rupiah Token will launch its token (IDRT) on the Harmony Blockchain network (HRC20 Token).
Harmony is the next generation sharding-based blockchain that is fully scalable, provably secure, and energy-efficient. Harmony addresses the problems of existing blockchains by combining the best research results and engineering practice in an optimally tuned system.
About Rupiah Token
PT Rupiah Token Indonesia is a venture-capital-backed startup based in Jakarta, Indonesia. As a leading Blockchain technology company, our mission is to boost the acceptance of Indonesian Rupiah worldwide and accelerate the transition to a more inclusive and open financial system. Since its establishment in January 2019, Rupiah Token has been developing its services in Indonesia and building its ecosystem further by getting listed on reputable global cryptocurrency exchanges, integrating with leading crypto wallets, and partnering up with relevant stakeholders.
Contacts
To request partnerships or other collaboration opportunities, please send an email to [email protected] or visit rupiahtoken.com to submit a request.
Telegram (EN): https://t.me/rupiahtokeninternational
Telegram (ID): https://t.me/rupiahtokenindonesia
Twitter: https://twitter.com/RupiahTokenIDRT
Instagram: https://www.instagram.com/rupiahtoken/
Website: https://rupiahtoken.com/
Blog: https://rupiahtoken.com/blog