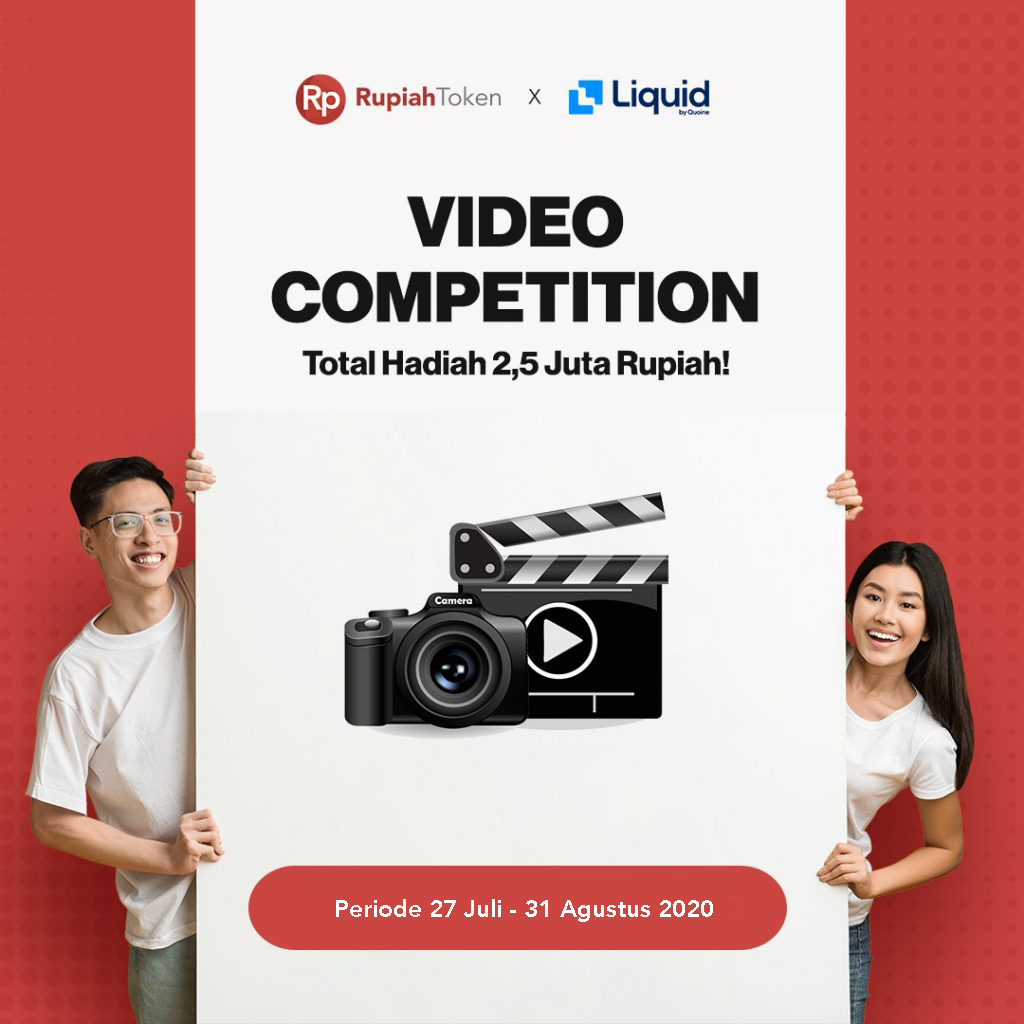 Hi IDRTers!
Rupiah Token and Liquid would like to invite you to join a VIDEO COMPETITION which will be conducted from July 27th to August 31st 2020.
The most creative, interesting, and informative content will be eligible to win a total prize of IDRT 2,500,000 from Rupiah Token and Liquid.
Please check the instructions below for more details!
Schedule:
July 27th – August 31st 2020
Rule Details
Create one Youtube Video showing your TRADING OR BUY/SELL activities on Liquid. Your video could be in a form of vlog, video tutorial, or anything. Be as creative as you can!
Please share about Liquid referral program and share your referral code* in that video. Please also include your Liquid referral link on the video details section.
Like this Instagram post and follow Rupiah Token Instagram account @rupiahtoken, Liquid Instagram account @liquid_global, and Rupiah Token Twitter account @RupiahTokenIDRT.
Please MENTION 3 OF YOUR FRIENDS on this post comment section.
Create one or more contents on your social media platforms which shows the step-by-step / tutorial on how people can TRADE or BUY/SELL IDRT in Liquid. Your video could be in a form of vlog, video tutorial, or anything. Be as creative as you can!
Video competition period will start from 27/07/2020 to 31/08/2020. The winners will be announced on September 2020.
Upload your video to YOUTUBE and fill in the following form to confirm your submission ( IDRT x Liquid Video Competition ).
*Share your referral code & get 30% of their trading fees back! Your referees will also get 10% discount in trading fees for their transactions.
Prize Structure
Rupiah Token and Liquid will choose three winners with the most attractive and informative contents. The top three winners will be chosen using several parameters such as the information described in the contents, creativity, number of impressions, etc.
1st place: 1,000,000 IDRT
2nd place: 700,000 IDRT
3rd place: 300,000 IDRT
10 Favorite Winners: 50,000 IDRT for each
*10 Favorit winners based on judges discretion
Winner Announcement and Prize Distribution
Winners will be announced and prizes will be distributed on September 2020.