The time where people wait for the end of the month to receive their salary has ended. Now you can stream and withdraw your salary every minute, whenever you want!
We are pleased to announce that the Rupiah Token (IDRT), the first stablecoin which is pegged to the Indonesian Rupiah (IDR) at a conversion rate of 1:1, is now part of the Sablier ecosystem. The token is available in the form of IDRTW, which is the 18 decimal version of IDRT in the Sablier ecosystem.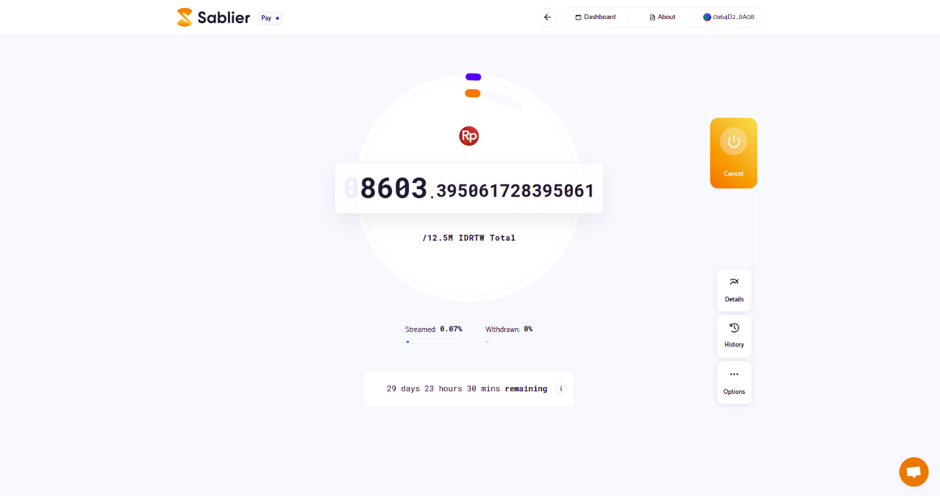 Sablier is a real-time financial dApp that can be used to make by-the-second payments, such as payment of salaries. By using Sablier, you can stream and withdraw a portion of your salary every minute that continues to get paid in real-time. Every stream is calculated by the second, even while you are sleeping!
"By integrating with Sablier, people will be able to receive their salary in minutes instead of waiting for the end of the month. Although the current app is for payment of salaries, it could also be implemented to other business models, such as for subscriptions or the start-up founder equity vesting," said Muhammad Zaky, Business Development of Rupiah Token.
Currently, Sablier has two building blocks:
End-user products: sablier.finance and app.sablier.finance
Money streaming engine powered by Ethereum smart contracts
To measure the time, Sablier uses the so-called block time average as a time proxy. For example, a block on Ethereum is broadcasted every 15 seconds, which makes 1 minute equal to 4 blocks. For more information on how the implementation works, see the frontend package in the Sablier codebase.
At present, the Rupiah Token has used Sablier to pay the salaries of their several employees. Rupiah Token is also developing a portal to easily convert from IDRT to IDRTW. Going forward, users can buy and redeem both tokens directly on rupiahtoken.com.
Potential Use Cases Between Rupiah Token and Sablier
Crypto Trading
Crypto price is very volatile, and sometimes when it's a good time to buy some crypto, your salary hasn't arrived while by the time it arrives the price already skyrocketed. By using Rupiah Token on Sablier, you can buy crypto assets with your salary anytime without the need to wait for the end of the month.
Subscriptions or Memberships
Service providers make money by charging fees at fixed intervals, such as monthly payments. But with the money streaming system, users will have full control over what they consume. This feature might replace the upfront payment method or free trial services.
Freelancing
Imagine if a freelancer asks clients to stream payments in advance, for example at 50% of the contract value. If that's happened, then the loss of clients can be minimized and freelancers will have some income that has been streamed.
Start-up founder vesting
Mint the company stock as IDRTW token. For each founder, you can create a Sablier flow with their equity allocation and set the duration to for example 4 years. If the founders leave, the flow of their shares can be canceled.
Short-term jobs
Real-time finance makes it easy for people to take short-term jobs on the internet, such as code review, technical support, business consultant, legal advisor, and many more.
Grants and Scholarships
By using real-time finance, you can trust applicants quickly, right after you start streaming. The money will be channeled to offset expenses and tuition. Students will be given incentives to achieve higher grades.
Parking fee
Drivers are usually charged an hourly or per day parking fee. By paying for parking in seconds or minutes, the driver only pays the fee for the time the car is parked.
Insurance
Insurers demand policyholders pay upfront, which is fine when the time frame is known. But what if you don't know when you will return from a trip?Stream money! Get coverage proportional to how much money you streamed.
Lodging or Short-term rent
Nowadays, not many choices available if you want to book a hotel by the hour. But with real-time financial technology, you can pay for it in minutes, even seconds. You only need to pay during the time you stay at the hotel.
Lending
If your salary is paid in real-time, you can use it as collateral to borrow money. Imagine getting a loan and paying it back by redirecting a small percentage of the incoming stream back to the lender. This method has been activated by Sablier by using tokens such as cDAI, cUSDC, iDAI, iUSDC.
Coworking Spaces
The whole world may be everyone's office. Real time finance can play a big role in making that happen. People can use a coworking space and pay only for how long they use it.
Babysitting
If you don't have a regular schedule, then finding out how long you will leave your baby at home can be a problem. Real-time finance makes it easy for you to pay for babysitting for precisely as long as you are away.
About Rupiah Token
PT Rupiah Token Indonesia is a venture-capital-backed startup based in Jakarta, Indonesia. As a leading Blockchain technology company, our mission is to boost the acceptance of Indonesian Rupiah worldwide and accelerate the transition to a more inclusive and open financial system. Since our establishment in January 2019, we have been hard at work developing our service in Indonesia and listing our tokens on reputable exchanges.
Contacts
To request for partnerships or other collaboration opportunities, please email [email protected] or visit rupiahtoken.com to submit a request.
Telegram (EN): https://t.me/rupiahtokeninternational
Telegram (ID): https://t.me/rupiahtokenindonesia
Twitter: https://twitter.com/RupiahTokenIDRT
Instagram: https://instagram.com/rupiahtoken
Website: https://rupiahtoken.com