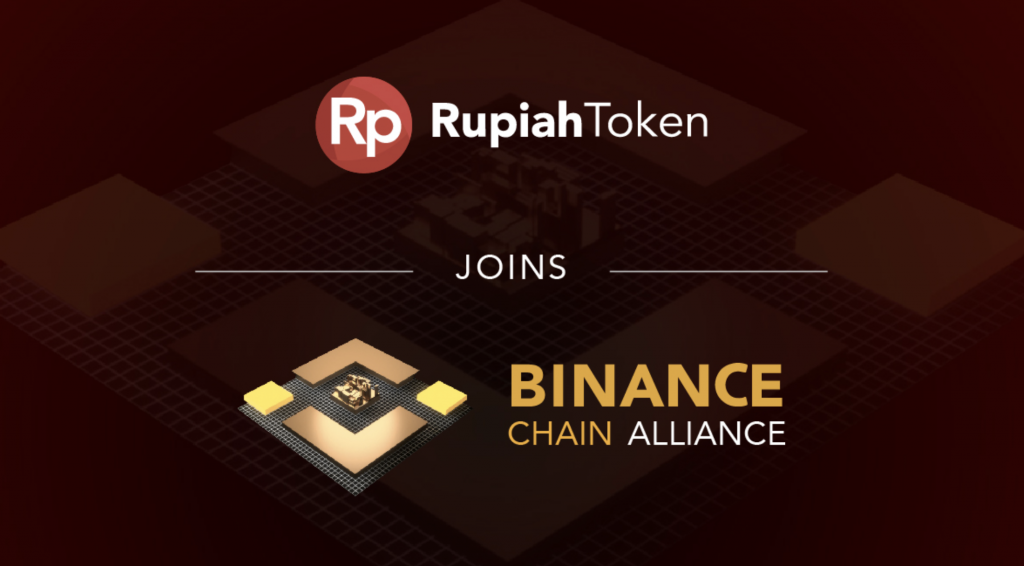 Rupiah Token is honored to be part of the Binance Chain Alliance, an association of blockchain projects and their respective Founders/CEOs whose projects' tokens have been successfully listed on Binance DEX!

We would like to say thank you to Pierre Chahine, founder of Cubiex eSports, for initiating this Alliance. The purpose of this alliance is to support new projects who are migrating their tokens to Binance Chain, as well as helping fellow Binance Chain members with other topics such as technology, KYC, financing and many more afterward. We are grateful for this opportunity and we hope to bring positive contributions to this new growing community.

About Binance Chain Alliance
Binance Chain Alliance is an association that brings together blockchain projects along with their founders/CEOs, who have successfully migrated their tokens to Binance Chain and has been listed on Binance DEX. The aim of the alliance is to support other projects and their founders during their migration process to Binance Chain as well as providing assistance with various topics such as financing, technology, KYC and introductions in our extensive network.
Binance Chain & Binance DEX features a user-friendly interface, fast transaction time and provides significant value through the strong ecosystem of Binance and its community. To date, Binance Chain and Binance DEX have handled more than 22 million transactions of over 280,000 thousand addresses — and the growth continues. Since its launch in late April 2019, more than 150+ tokens have been built on Binance Chain.

(Disclaimer: The Binance Chain Alliance is a community / project-driven initiative, that is not officially affiliated with Binance.com)
About Rupiah Token
Established in January 2019, PT Rupiah Token Indonesia is a venture-capital backed startup based in Jakarta, Indonesia. As a leading Blockchain technology company, our mission is to boost the acceptance of Indonesian Rupiah worldwide and accelerate the transition to a more inclusive and open financial system. We are the creator and issuer of Rupiah Token (IDRT), the first stablecoin that is backed 1:1 by Indonesian Rupiah. IDRT is now supported in various cryptocurrency exchanges (such as DDEX, Uniswap, and Binance DEX) and wallets (Trust Wallet, Ledger Nano S, etc).
What Rupiah Token brings to the table
As the first Indonesian Rupiah-backed stablecoin in Binance DEX, we can help Binance DEX projects gain better access to Indonesian customers by creating listing proposal together to form new trading pairs. Not only that, our team has faced the challenge of building tokens and web platforms that serve both Ethereum (ERC-20) and Binance Chain (BEP-2) tokens, and we can contribute & share our experience and expertise with other great projects in the alliance. Ultimately we believe that our collective mission is to drive mass adoption of blockchain technology, and as an ecosystem we can only grow bigger by collaborating with other members of Binance DEX. We look forward to grow together in this alliance.
Contacts
To request for partnerships or other collaboration opportunities, please email [email protected] or visit rupiahtoken.com to submit a request.
Telegram (EN): https://t.me/rupiahtokeninternational
Telegram (ID): https://t.me/rupiahtokenindonesia
Twitter: https://twitter.com/RupiahTokenIDRT
Website: https://rupiahtoken.com/
Blog : https://rupiahtoken.com/blog