Blockchain and stablecoins have significant potential to reduce costs and improve efficiency in international trade.
Upbit Developer Conference (UDC), Seoul, 4 September 2019 — As adoption of blockchain infrastructure widens, stablecoins will play a more prominent role as a bridge between fiat and cryptocurrencies. At the Upbit Developer Conference 2019, Dunamu (Upbit's Parent Company) Chairman Chi-Hyung Song highlighted the importance of stablecoins such as IDRT (Rupiah-backed) and Terra (algorithmic design) in transforming the landscape of blockchain.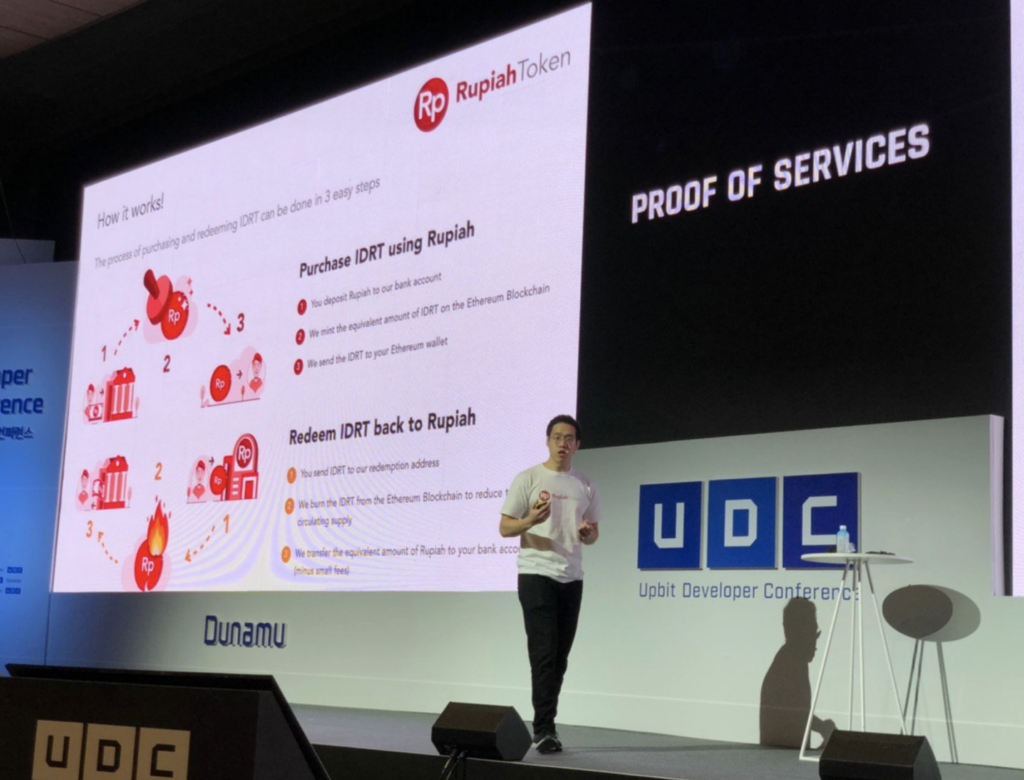 Stablecoins play a critical role in providing a stable form of value, while at the same time leveraging the efficiencies and open characteristic of blockchains that allow anyone to transact with each other globally anytime. Categorically, stablecoins can be divided into two broad types: (1) Asset-backed stablecoins (ie. IDRT) and (2) Algorithmic Stablecoins (ie. Terra).
The CEO of Rupiah Token Indonesia, Jeth Soetoyo, introduced the potential for Rupiah Token (IDRT) to be used within Trade Finance, especially with regards to creating a more trustworthy settlement solution for both exporters and importers. Currently, exporters and importers rely on a broad range of tools including Consignment, Letter of Credit, Cash Advance, and Collection Draft that can be costly, slow, and dependent on intermediaries. He says the use of blockchain can create a more efficient and trustless method of settlement.
Indonesia and Korea has a 46 year history of bilateral trade relationship with over $15B traded annually between the two countries. "This corridor can be a big potential for new services to disrupt the existing methods of settlement", said Jeth.
In the speech, Jeth also mentioned that they are open to supporting other developers to build new DApps and services using Rupiah Token to tackle problems such as trade finance and decentralized finance.
The Upbit Developer Conference is attended by over 1000 participants and key players in the industry including Brave Software, Blockstream, Hedera Hashgraph, Borse Stuttgart, Mossland, SM Entertainment, Finhaven, Unchain, and Carry Protocol.